Company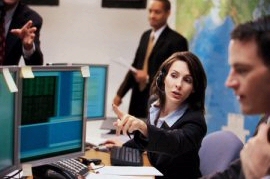 TcSoft is an Uruguayan company that from 2002 is dedicated to the development of software.
Our market are small and mid-sized business cause we think that software is for everybody and we always have the lowest price.
The principal characteristic of our products is that are easy to use by any person.
We emphasize in the quality of our products but more important to us is to give support to our clients being available when they need us, having a friendly relationship and listening to their advices so we can have the software always improved.
At the beginning we started developing custom software for small business needs.
In 2004 we launched our first application software "InfoRest", a Restaurant Management Software for the gastronomic industry.
Then in August 2005 we launched our second application "LIDESU", a Payroll System being the easiest, practical and reliable software for accountants, small and mid-sized business.
To complement LIDESU in June 2006 we launched our third product "Virtual Clock" the first Time Clock that takes a picture of the employees for small and mid-sized business. Virtual Clock includes a Time and Attendance Software that calculates automatically Regular hours, Night Shift, Overtime, Weekend, Paid Holidays, Absences, Sick, Vacation and Late Arrival Minutes. In only a few years Virtual Clock has been purchased by hundreds of companies in Uruguay.